Now we feature this stunning black beauty from Eddie Hutton.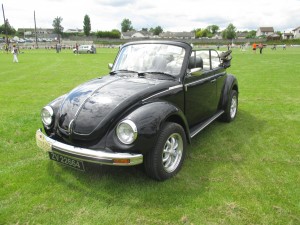 It's a 1977 VW Karman Beetle Cabriolet. The Beetle Cabriolet began production in 1949 by Karmann in Osnabrück, Germany. It was in 1948 that coachbuilder, Wilhelm Karmann first bought a VW Beetle sedan and decided to convert it into a four-seated convertible. After a successful showcase to VW, production started in 1949. The last of 331,847 cabriolets came off the conveyor belt on 10 January 1980.
This lovely example has had an extensive restoration which Eddie has been patiently waiting to complete until this year. He now plans to take full advantage of the great summer weather this year and show off it's well known and much appreciated attributes.
It's a refreshing change to see a Cabriolet in a darker shade and Eddie didn't fall for the usual idea of using a bright or pastel colour. We think it's was definitely the right decision as the colour shows off all the beautiful lines of the car.