Posted 10th November 2020
As we are now stuck in the middle of Level 5 restrictions, it is fantastic news that vaccines for this dreaded virus are on the horizon. This gives a new sense of optimism as we look forward to 2021. We are ploughing ahead and planning for as close to normal a year as possible. As you have seen, dates are now confirmed for 2021 for both our Duckett's Grove Show in May and our Tyndall College Show in August.
We will have as busy a year as possible as we have some fantastic runs under our belts from 2020 and lots more planned for 2021. We are delighted with the success of our runs including picnics which is now the new normal! We are hoping to resume members meetings as soon as possible and we can then motor on with other club business and indeed enjoy a social get together in the bar afterwards! Of course we will be recruiting volunteers for both our shows, so anyone that is willing to participate in running these shows, please let us know. In the meantime, let us look forward to a lovely Christmas (without a party unfortunately) and stay safe everyone!!
Posted 18th August 2020
I'm just listening to the NEPHET and Government press release this evening and it is apparent that the pandemic is with us for the foreseeable future and it is most important that we all cooperate with measures and guidelines so that normality returns as soon as possible. No doubt the pandemic is restricting club activities but it is a credit to all that we are able to continue with runs etc. within best practice guidelines. On Sunday just gone, We assembled in the grounds of the new Tyndall College for a meet, a chat, photos and a raffle. The cars looked fabulous and the members were in great form. This was an important milestone for us as it was the largest gathering we will probably get to hold for the foreseeable future. Full credit to PJ and the committee for the efforts put in.
We are busy planning ahead for 2021 and the venue chosen for our Annual Club Show in August 2021 is the Tyndall College where we had our meeting on Sunday just gone. The venue is spacious with plenty of car parking, easy access and there are some lovely garden areas as well. There was very positive feedback from members regarding the new venue choice. Of Course our Annual Duckett's Grove show will be going ahead in May '21.
The Club had a weekend away over the August Bank Holiday in Banbridge Co. Down. The travelling members were so delighted with the hotel and the location that there is a trip planned for the October weekend for 3 nights from 23rd of Oct. Anybody interested should contact PJ or Brian. In the meantime, keep an eye out for texts for info on club runs and any activities that would fit in with best practice. In the meantime stay safe!
Posted 22nd April 2020
As I'm sure you are all aware, our Annual Duckett's Grove Show has fallen victim to the Covid 19 Pandemic and after careful consideration, we have made the decision to cancel our Annual Club Show which was due to take place on the weekend of 12th and 13th of August. All things considered, it is for the best and we are already focusing on 2021!
We hope that that the covid 19 pandemic will be a memory at that stage and we can get all activities back to normal. We were delighted this year to have secured a new venue for our August show namely Tyndall College. This new venue located at Mortarstown a mile outside Carlow Town heading south has tremendous appeal as a venue and we are excited about our show planned for August 2021. Of course, Duckett's Grove Show planned for the 10th May 2021 is the jewel in our Club's crown! We are planning a bumper family day and show there as usual.
In the meantime, we will endeavour to create activities & runs of interest for our members as soon as it is safe to do so. We would like to take this opportunity to thank everyone for their support to date and wish you all the best during these trying times. Membership is available with details on our website www.carlowvintageandclassicmotorclub.com. We are contactable at e-mail carlowvintageclassic@gmail.com, Mobile: 089 217 3407 and you can follow us on facebook Carlow Vintage and Classic Motor Club. KEEP SAFE!
P.J. and Committee
Posted 18th November
Another great year for our club. Two very successful shows, weekend trips and a record number of outings. Our Christmas Party night on 21st Dec. is sold out and if any member missed out on tickets, forward your name to the secretary so that you can be facilitated on a first come first served basis in the event of a late cancellation.
Membership falls due on the 1st January 2020 and we are now accepting applications! Please find application form on Membership Page or they are also available from any committee member. Please return promptly to facilitate the compilation of a new accurate membership register to enable our AGM to be held after the constitutional membership cut off date of 31st March.
We are looking forward to a bumper Christmas Party and would like to remind members to bring a spot prize on the night. We will be back to Club business with our first members meeting on 28th Jan. 2020. In the meantime, we will be in touch on the texter with any news and information on runs. Have a very Merry Christmas and a Happy New Year!
Posted 19th August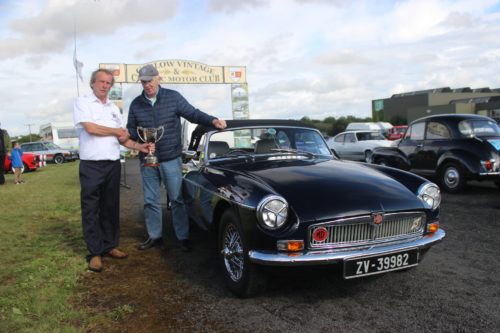 What a fantastic weekend we just had. Our Annual Club Show kicked off on Saturday afternoon with a parade of 40 cars making it all the way around Carlow Town returning to base at the Cental Grounds on the O'Brien Road. We had a huge turn out of volunteers on Saturday morning to prepare the grounds for the show. Eddie was busy marking the lines for the car park, P.J. was supervising us all to make sure the jobs were done properly, Carol and Teresa were busy getting the tents ready for the hospitality, Austin and Frank prepared the entrances, fire points etc and forgive me for not mentioning everyone else that was working hard.
Sunday kicked off at 7.30am with the arrival of the first volunteers. Club cars and visitor cars started to arrive from 9.30am and a steady stream made their way in up until 2pm. We had over 300 cars from as far afield as Wales, Galway, Cork and Donegal. The quality and diversity at the show was fantastic. We had a great MC in Tim Madden who done all the introducing over the PA. Adrian Ryan and his ban entertained us through sun, wind and rain and kept the line dancing going on the dancefloor. We had a great dog show at 3pm and Michelle and Lily picked out the prettiest Canines at the show.
Our Judge for the cars this year was Declan Grogan and congrats to Declan for doing a superb job. Our overall winner was Maurice McCreery with his beautiful MG. An excellent achievement Maurice and well done. The 'Leslie Hunter Perpetual Trophy' will adorn your mantle for the next 12 months. A full list of winners will follow. Congratulations to all involved with the planning and organising this show and a huge thanks to all the volunteers!!!!!!
Posted 8th August
We had a hugely successful weekend away in Westport last weekend. We departed at 9am on Friday morning after breakfast at the Woodford Dolmen Hotel and took our route through Athlone and Claremorris. We stopped in Moate and had refreshments in the Grand Hotel there. Onward bound and after a stop in Roscommon town we made it in plenty of time to check in at the Westport Woods Hotel. We had dinner at leisure on the Quays in Westport where we planned our outing to Achill Island for the following day.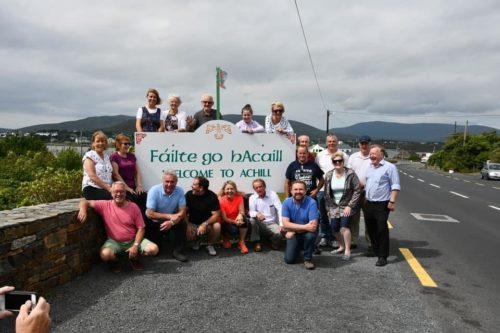 We headed off the next morning at 11am and made it to Achill where we headed to the Achill Head hotel for a light lunch. This was followed by a couple of games of pool. We headed on to Keem beach where we took a lovely walk down the hill to the beach. We finished our run around the Island and headed back to the hotel.
We booked a table for 24 persons and had a great meal followed by a great sing song until the early hours. Sunday was a day a leisure where some headed to Westport House, some headed down town and others went for a drive. We had dinner again on Sunday night followed by relaxing in the bar and lobby. Music was on offer in the bar both nights. We departed on Monday morning at 10am stopping in Knock and onward to Carlow stopping for a meal in the Tullamore Court Hotel. A hugely successful weekend a fair dues to all attending. Follow the link below to the Gallery!
http://www.carlowvintageandclassicmotorclub.com/gallery/nggallery/album-2019/Achill-2019
Posted 11th July
Last Sunday, a large contingent of our members made their annual trip to Terenure to the Irish Jaguar and Daimler Club's show on the grounds of the college there. We met many friends from other clubs as we soaked up the sun shine and the great atmosphere. We invited many clubs to our annual show on the 18th August which is shaping up to be a record breaker.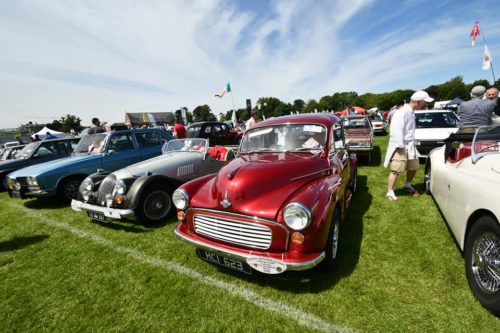 This Sunday, we will be supporting the South Eastern Vintage Machinery Club in Ardattin for the 38th annual Vintage Rally. We will be leaving the Lord Bagenal at 11am. We hope to see you there!
Posted 13th May
Yesterday, we held our annual show in Duckett's Grove. We had many visitors from all around the country bringing vehicles spanning many decades. What is easy to forget is the amount of work that has to be put in over the preceding months to make the show such a huge success. It all starts when the date is set and the booking is made with Carlow County Council. Safety Management and Traffic Management are major considerations and a big thank you to Tim Madden for assisting with this. Networking with other clubs and shows is also vital to ensure such a large attendance at our shows. Full credit to the Chairman and committee members that put in the effort to go to these other shows around the country.
Advertising is what gets the word out and congratulations to our PRO for his work with social media and the press and indeed with other clubs around the country. It's only after all this that the hard work starts! Preparation of signage, the grounds at Duckett's Grove, catering, raffle and coordination of stall holders all need major attention and monitoring in the weeks running up to the event.
The hard work starting on Friday evening getting the venue ready is a credit to all members and friends that made the effort to help out. It was truly a smooth running event with many hundreds of people coming to see the show from all over the county and further afield. Our Duckett's Grove show's nominated charity is The Carlow branch of the Irish Wheelchair Association and a big thank you to Geraldine Byrne and her team who came and helped from early morning shaking buckets and selling raffle tickets.
Thanks again for all the hard work and looking forward to some great runs during the summer to include a trip to Kilbroney and Westport. Full details on the Website www.carlowvintageandclassicmotorclub.com .
Posted 28th/29th April
Today we supported the fundraising run for the Water Garden in Thomastown. We met at the Lord Bagnal for a quick coffee at 11am before we headed south. We arrived at the Water Garden at 12.30pm and had a lovely lunch with members of other supporting clubs including The Kilkenny Motor Club and the West Wicklow Club to name but two. We also enjoyed a stroll around the garden centre and craft shop. We then headed out to Jerpoint Park. This is an amazing historical site where the remains of St. Nicholas of Myra's remains are interred. Yes, Santa believe it or not! Joe O'Connell our host gave the guided tour around the Church and Village covering a thousand years of history and Meadbh made scones and coffee for our return. We returned to Thomastown through Mount Juliet Estate. A big shout out to the members who helped our member in need just outside Thomastown. Oh the Joys of Motoring. No names no scandal as you know who you are. Well done to Michael Piert for organising a great fundraising run!
All the best to the club members heading to Wales next Friday. Safe journey and enjoy the festival. Check out today's run photos in the Gallery section! Have a great week all!!!
P.S. The run next Sunday 5th May is to Clonmel for their Annual Show. We will meet at the Bagenal at 11am.
http://www.carlowvintageandclassicmotorclub.com/gallery/nggallery/album-2019/Thomastown-28th-April-'19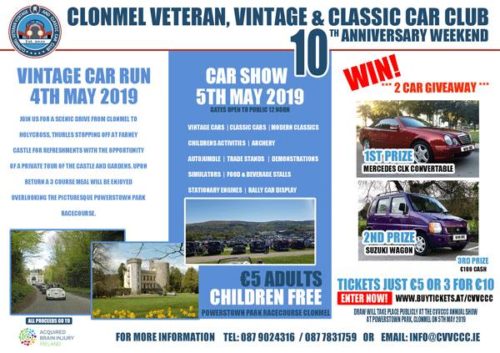 Posted 22nd April
A great day was has had at our Show season launch and Easter Parade run yesterday. There was great activity at the Woodford Dolmen Hotel from early morning moving cars in and setting up the club tent. Easy work when the weather is so good. We had great support from friends from other clubs and of course the hard work from our own members. We left the hotel at 2pm to support the Hacketstown Easter Parade where there was a great turn out with almost 50 cars. Afterwards we returned to the hotel where we met members existing and new and promoted Duckett's Grove Show. Well done to the hotel and we all enjoyed having a look around the food and craft fair and Country Jive dancing with Declan.
Run next Sunday 28th April
We will be supporting our good friends in the Kilkenny Club next Sunday 28th April by joining them on their fundraiser for lunch at the Wintergarden in Thomastown and on to Jerpoint Gardens. We will meet at the Lord Bagenal from 11am departing at 11.30am.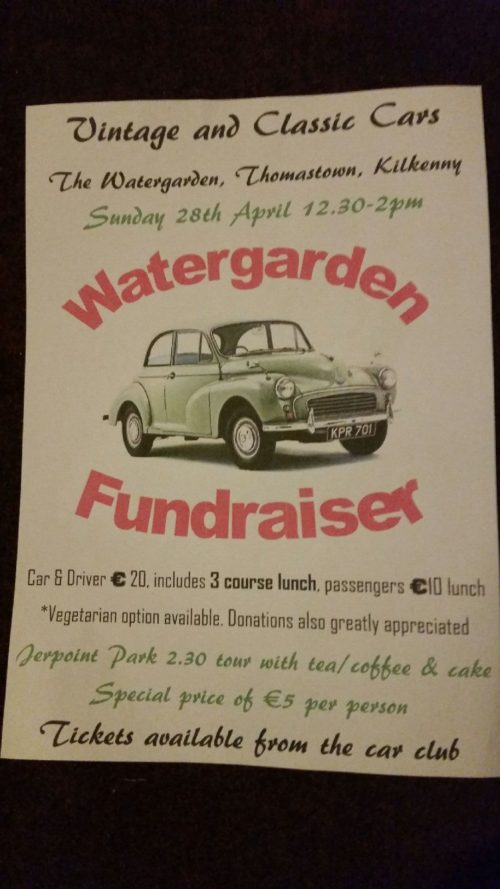 https://www.facebook.com/ThomastownCCoI/
Posted 16th April
Our Show season launch is on this Sunday the 21st April at the Woodford Dolmen Hotel in conjunction with the hotel's food and craft fair. We will be showing our cars on the lawn at the front of the hotel arriving from 11.30am. Those supporting the Easter Parade at Hackettstown will depart from the hotel at 2pm returning afterwards. There will be plenty to see and do at the hotel and a great opportunity for the members to socialise! See you all there.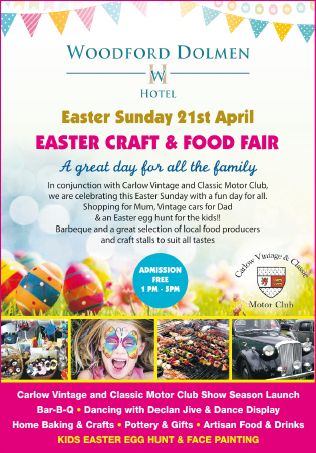 Posted 31st March
Those who are travelling to the Cork International Show next weekend will meet on Saturday morning @ 10.30am at the Lord Bagenal Hotel and meet up with the members from Kilkenny at Castleinch (Callan Car Boot Sale) at 11am. Some members will also be travelling early on Sunday morning. Final details will be texted during the week.
Posted 27th March
We are delighted to be supporting Wicklow Vintage Club this Sunday with their run in aid of South Wicklow Hospice Homecare. We are meeting at Killerig Cross at 11am this Sunday. Don't forget that raffle tickets for Duckett's grove in aid of the Irish Wheelchair Association are now on sale.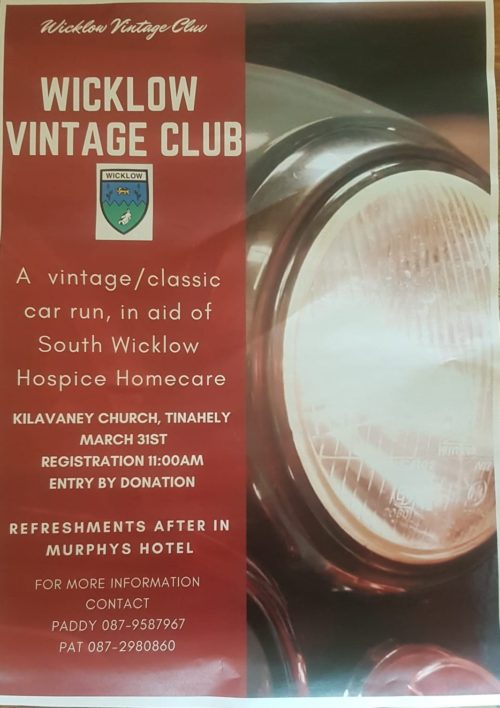 Posted 24th March
A great day was had today by our members who travelled to Clonmel to join the Clonmel Club on their run to Holycross and Lunch afterwards. Please follow this link to the gallery to see some photos;
http://www.carlowvintageandclassicmotorclub.com/gallery/nggallery/album-2019/Clonmel-March-2019
Members meeting this Tuesday night at 8.30pm in the Lord Bagenal Hotel. All welcome!
Posted 21st March
We have availability for our Annual August Bank Holiday Weekend trip leaving Carlow on Friday 2nd Aug returning Monday 5th August. This year, we are heading for the wild and wonderful west where we will be staying at the Westport Woods Hotel. Pack your togs and swimsuits as there is a leisure centre and pool. The Hotel is managed by a native Carlow man from Tullow, Michael Lennon. There will be a couple of runs including a run to Achill Island. Please contact PJ for further details.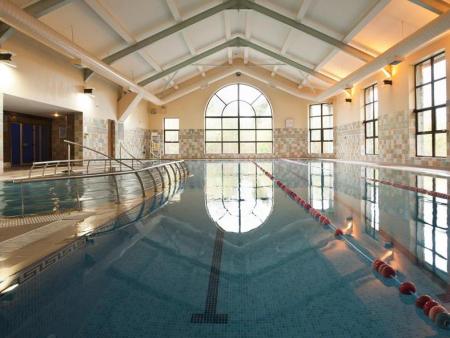 Posted 18th March
Crowds in Carlow were entertained by street theatre and marching bands #stpatricksday | https://t.co/1ATWXjxVvO pic.twitter.com/anm2jMCCQX

— RTÉ News (@rtenews) March 17, 2019
We had a great day at the local parades yesterday and the weather really held up for us. The sun was splitting the stones by mid afternoon. There were so many floats and displays at the Carlow town parade and thousands lined the route. Well done to the parades committees all around the county. Some members cars made the evening news. We then headed for the Woodford Dolmen Hotel for our tea! A great day had by all.
15th March
Local Parades information
Bagenalstown parade at 1pm, members cars assembling on Station Road from 12.15pm https://www.facebook.com/bagenalstownstpatricksdayparade/
Carlow Parade at 4pm, members cars assembling at Burren St./Pembroke from 3pm https://www.facebook.com/stpatricksdayparadecarlow/
Tullow Parade at 2pm https://www.facebook.com/tullowstpatricksdayparade/
Goresbridge at 3.30pm https://www.facebook.com/Goresbridgeparade/
Lá Fhéile Pádraig sona
7th March
Click here to see Nationwide on RTE showing the Vintage Car restoration course in Waterford.
https://www.rte.ie/player/series/nationwide/SI0000001172?epguid=IH000367864
27th February
We held our second members meeting of the year last night in the Lord Bagenal Hotel. There was a great turn out and lots discussed including planning for our upcoming shows, runs and events. Our chosen charity to be supported by our Duckett's Grove show on the 12th May is the Irish Wheelchair Association. We will be running a great raffle with prizes galore and tickets will go on sale shortly.
The March 2019 issue of Irish Vintage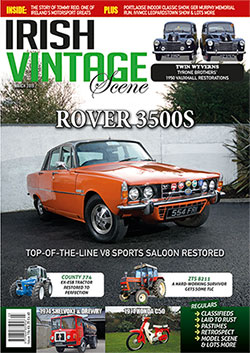 The March 2019 issue of Irish Vintage Scene is now on sale. On this month's cover we feature a very special, original Irish Rover 3500S that holds an irreplaceable position in the Cullen family, while our second feature showcases two brothers from Co. Tyrone with identical Vauxhall Wyverns, both of which have been through in-depth restorations. Our main tractor feature this month tells the story of an ex-ESB County 774 that was the very first restoration of its new owner, while for our second tractor story we delve into the history of ZTS tractors by looking at one preserved 8211 model. Our motorcycle feature this month outlines the restoration of an evergreen Honda Super Cub 50, and our featured commercial vehicle is a very rare 1974 Shelvoke & Drewry tanker. And, as an added bonus this month, we meet up with legendary Irish motor racer Tommy Reid to look back on his storied career. Event reports in this issue include the Portlaoise Indoor Classic Show 2018, the Gerard Murphy Memorial Run, the IVVMCC Leopardstown Motorcycle Show and more besides, and all of the usual favourites are in there too, so don't miss out – get your March 2019 issue of Irish Vintage Scene today at any good newsagent, or order here online!
3rd February
We had a great run to Dunadee in Kildare today! Our hosts Jim and Josie Ginty were very generous to show us around their collection of vehicles, bygones and antiques. Plenty of chat and reminiscences! Weather was mild although we got some rain. We stopped in the Hideout for lunch and excellent it was too! PJ managed to squeeze a dessert in (Surprise Surprise). 🙂
Check out the photos here. http://www.carlowvintageandclassicmotorclub.com/gallery/nggallery/album-2019/Gintys-Feb-19
30th January
We had a great turn up for our monthly meeting last night in the Lord Bagenal where we discussed our shows and trips planned for this year. Of course, we went to the bar afterwards for tea and refreshments. We have provisionally planned a run to Kildare for Sunday which will be confirmed by text on Saturday. The code yellow weather warning is with us until Saturday, so in the meantime stay safe on the roads.
The Club will be supporting the charity road run for baby Amira on Sunday 24th February so have your vehicles fuelled and shined for that.
January 27th 2019
We are delighted to announce that we have been invited to join the Cork International Hotel Charity Car Show on 7th April. Please see poster and web link. More details to follow at the next meeting! Bedroom rates are
Twin room = €115
Single room = €105
You will need to phone individually to book the room and mention the agreed rate.
Tel: 021 4549800
https://www.corkinternationalairporthotel.com/cork-car-show.html
January 25th 2019
Hi all, please note that there is limited availability for our Trip to Llandudno on the 3rd, 4th, 5th and 6th of May. If you are interested, contact P.J. Lawlor or Brian Redmond ASAP. Go to the 'Llandudno 2019' menu on the home page to see the poster and application form to exhibit.
January 23rd 2019
It's the start of the new year and we're off to a flying start! The new committee is well and truly bedded in and there is a great line up for the year between our own shows, our trips to other shows and our runs. The web site is going to become more active with regular news updates, lots of photos in the gallery and we are going to work on getting as much video up also. We are looking for any volunteers for our Members Cars section and if anyone has any old photos we will create a separate gallery for these.
If anyone has any ideas for the website, please e-mail us or give us a quick call or bring it up at the next meeting which is next Tuesday 29th January in the Lord Bagenal. All are welcome.
PS Check out the 'club events' page for a full update.
Have a great week!
CVCMC