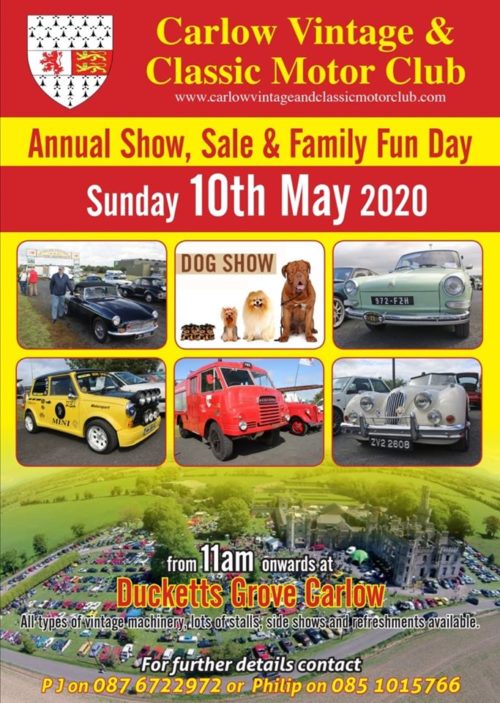 This event is supported by Carlow County Council.
We are straight in to 2020 with a great line up! Duckett's Grove Show is in the planning and date is confirmed as 10th May. We are delighted with the great response we are already getting from friends, associates and suppliers alike. We are organising some fantastic runs for members and friends so keep any eye on facebook!
Membership is due now for renewal up to 31st March. New memberships are available any time. Please find application form on Membership Page or they are also available from any committee member. Please return promptly to facilitate the compilation of a new accurate membership register to enable our AGM to be held after the constitutional membership cut off date of 31st March.
The Annual Club Show in August is confirmed for the weekend of the 15th & 16th Aug. In the meantime, we will be in touch on the texter with any news and information on runs. Have a great year and we look forward to seeing you at the shows.
Congratulations to Maurice McCreery on winning the
'Show Car of the Year 2019'
Maurice receiving the Leslie Hunter Perpetual Trophy from PJ Lawlor, Chairman of the Carlow Vintage and Classic Motor Club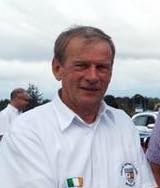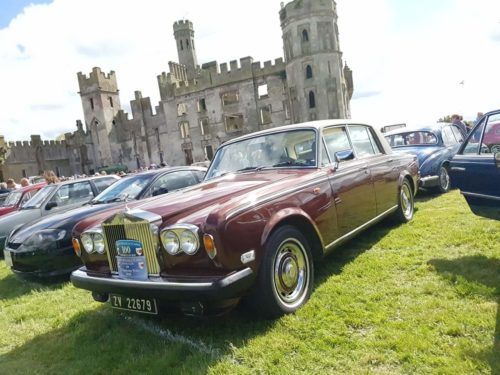 The Carlow Vintage and Classic Motor Club was formed in 2007 with only 40 people involved in the beginning. However, there had always been a healthy classic and vintage vehicle scene in the south east of Ireland and the club quickly grew after a few meetings and rallies.
To date we have over a hundred members from counties Carlow, Laois, Kilkenny, Wexford, Wicklow, Dublin and Kildare.
We hold our meetings on the last Tuesday of every month at 8.30pm at the Lord Bagnal Hotel in Leighlinbridge and new members are always welcome. All members are reminded of upcoming events and meetings through our Facebook page, text message and our website here.
So do you have a classic or vintage car, motor bike or tractor? Or do you just have an interest in the vintage scene? Maybe you're looking to buy something and not sure where to start? Then join us and we'll help you to get on the road.
Chairman
PJ Lawlor
E Mail:
carlowvintageclassic@gmail.com
---