Welcome to Carlow Vintage and Classic Motor Club. The club was formed in 2007 with only 40 people involved in it at the start which quickly grew after a few meetings and word spread about the club and out of nowhere people with their cars crawled out of the woodwork or metalwork would be the right term.
To date we have over hundred members and still growing strong from Counties Carlow, Laois, Kilkenny, Wexford, Wicklow and Kildare.
We hold our meetings on the last Tuesday of every month at 8.30pm at the Lord Bagnal Hotel in Leighlinbridge. All members are sent a text message to be reminded of time and place of meetings or upcoming events.
New members are always welcome.
So do you have a classic or vintage car, motor bike or tractor? Or do you just have an interest in the vintage scene? Maybe you're looking to buy something and not sure where to start? Then join us and we'll help you to get on the road.
For membership info, contact;
PJ Lawlor @ 0876722972
Ray Le Blanc @0868451795
Michael Lakes @ 087-2675661
CVCMC's recent successful show was featured on the Carlow magazine on Irish TV channel.
You can see it here
http://www.irishtv.ie/carlow-matters-49/
Upcoming events .
Durrow Vintage Show 13th April
CVCMC will be attending the Durrow Show this Sunday 13th April. We will be meeting at the Abbyleix roundabout in Graiguecullen, Carlow at 10 am. Leaving for Durrow at 10.30 am sharp. Contact PJ Lawlor @ 0876722972 or Ray Le Blanc @0868451795 for more information.
Charity night this weekend.
Llanduddo Transport Festival Saturday May 2nd -Monday May 4th Gwyl Cludiant Llandudno, Wales. Tickets and information available from PJ Lawlor @ 0876722972. Spaces are limited.
Duckett's Grove family day, May 17th. CVCMC will be hosting it's first show for 2015 in Duckett's Grove, Carlow. Come along, see the cars, the historic setting and meet your friends and fellow vintage and classic enthusiasts. For more details and update check back on this page or keep in touch through our Facebook page. or contact PJ Lawlor @ 0876722972. Vendors wishing to sell at our event in Ducketts Grove on 17th May, please contact PJ Lawlor at 0876722972.
CVCMC weekend rally to Kilarney, 31st July – 3rd August. For booking information, please contact PJ Lawlor @ 0876722972 or Marie Cosgrove phone / or text 0877619492 after 6pm. Price for the 3 days is 279 Euro with breakfast included. A 50 Euro deposit is required at the next general meeting to secure a room.
Carlow Vintage and Classic Motor Club annual show, August 9th. Carlow town, Co. Carlow.
Ken Sweeney's Skoda 1000MB is featuring in this month's Irish Vintage Scene magazine and extra copies are circulated in the Carlow/Kilkenny area. (Picture is courtesy of Irish Vintage scene and copyrighted).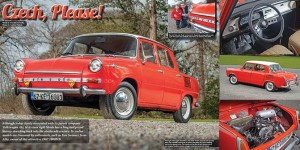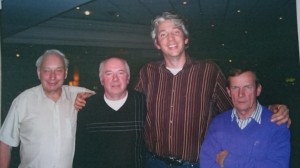 The lads at this years Practical Classic Show with some guy from the TV!
So take a look around our website and enjoy!
Happy motoring!
---