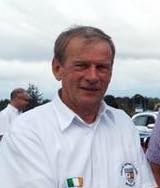 The Carlow Vintage and Classic Motor Club was formed in 2007 with only 40 people involved in the beginning. However, there had always been a healthy classic and vintage vehicle scene in the south east of Ireland and the club quickly grew after a few meetings and rallies.
To date we have over two hundred members from counties Carlow, Laois, Kilkenny, Wexford, Wicklow, Dublin and Kildare.
We hold our meetings on the first Tuesday of every month at 8.30pm at the Woodford Dolmen Hotel on the Kilkenny Road Carlow and new members are always welcome. All members are reminded of upcoming events and meetings through our Facebook page, text message and our website here.
So do you have a classic or vintage car, motor bike or tractor? Or do you just have an interest in the vintage scene? Maybe you're looking to buy something and not sure where to start? Then join us and we'll help you to get on the road.
Chairman
PJ Lawlor
E Mail:
carlowvintageclassic@gmail.com
---