Normally, we wouldn't consider having two of the same models featured in one year but there had to be an exception for this monster.
This is John Paul Cunningham's 1986 Morris Mini Clubman estate.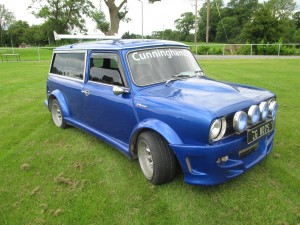 This car has the looks to turn heads at any show or rally and it also has the power to match.
JP's Mini features a BMW Twin K from a K1200 Supersport Motorcycle. BHP is a trade secret but suffice to say, it's well able to push the blue bomber around.
JP'S extensive engineering background has given him the tools to perfect a real hot rod for the 21st century while keeping all the traditional elements that we associate with the first generation Mini. While the rarity is already guaranteed with it's power plant, it's also great to see the Clubman model looking sharp and fresh in this project. Practicality is also there with the estate but I couldn't tell you if we will see JP parking his baby at the local supermarket! We'll just have to find out.