If you have an event and you'd like to invite us, please send your information and poster pictures to our email address at carlowvintageclassic@gmail.com
13th May 2018 Duckett's Grove Carlow
2018 will be no different from previous years with Carlow vintage and classic motor club as they prepare for yet another successful year of Vintage.
It all starts on the beautiful grounds of Duckett's Grove castle on Sunday May 13th.
It's a day not to be missed if you own or just enjoy looking at vintage and classic cars, tractors or even just fancy a family fun day at this amazing scenic location.
The committee and all the members look forward to welcoming you on the day and remember there will be lots of stalls side shows and fun for all the family.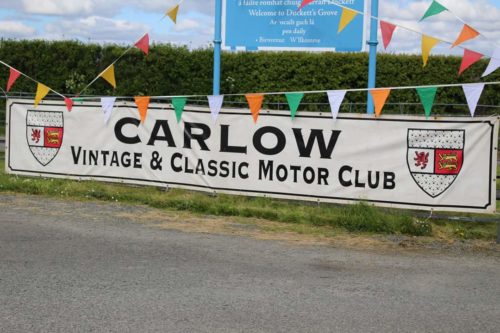 May 4th 2018 Llandudno Wales
Once again this year Carlow vintage and classic motor club will bve flying the green white and gold in Llandudno in Wales.
For the past ten years the Vintage extravaganza committee in Llandudno has welcomed members from our club for there four day festival on the may bank holiday weekend. Keep an eye on the website gallery for photos of this weekend.
21/01/2017
CVCMC are delighted to announce our forthcomming event in Duckett's Grove this may the 14th. 2016 was an incredible event with over 400 vehicles on display, and the day turned out to be probably CVCMC's most successful event to ever.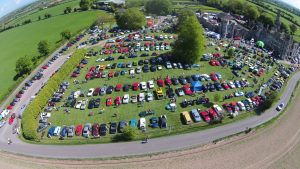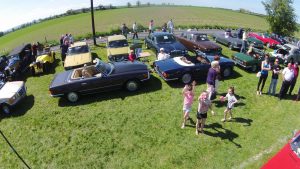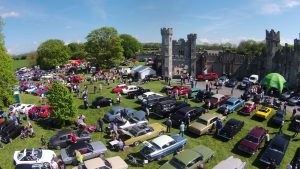 Visitors on the day were treated to spectacular scenery, great food, live music and of course, an amazing array of classic and vintage vehicles that travelled from as far as Belfast, Galway and Kerry to be with us. Sincere thanks to all the individuals, and clubs who brought their treasures.
So don't forget to put the 14th in your diary and join us on the day.
17/06/2016
CVCMC will be heading to Kilbroney on the 18/06/2016. Bus pickup points and times can be obtained by calling PJ Lawlor at 0876722972. On Sunday the 19th, we will be attending the Kildare County Show which is being held in the Athy Rugby Club grounds. A club convoy will be leaving at 10.45 from the old sugar factory in Carlow. Vehicles must by in attendance at the show before 11.30 am.
04/06/2016
What a great weekend of sunshine we are having. So, CVCMC will be busy with two runs. Our first run is tomorrow. We will be meeting at the Lord Bagnal in Leighlinbridge 11.15 am and heading up to Blessington. Another meeting point will be at Killerig Cross, 11.30 am. Next up on this bank holiday Monday, is an organised a run in aid of the Killeshin Pipe Band. We will be meeting at Killeshin School, 12 am, before taking a run in the local countryside. We would appreciate as many members as possible to attend and we would also be grateful for any donations towards a raffle which is being held on the day.
27/04/2016
***IMPORTANT ANNOUCMENT ***
Anyone traveling to Wales this weekend for the annual CVCMC weekend, please note the travel arrangements. We are meeting at Lord Bagenal at 5.15am with departure at 5.30.Sharp.There will a stop at castledermot roundabout at 5.40 am. sharp. Hope you all enjoy the weekend and post plenty of pictures here.
20/04/2016
CVCMC members are invited to take part in a run in aid of Carlow Day Care Centre on Sunday 24th April. The route will commence from the centre on Brownshill Road Askea at 1.30.Sharp. Refreshments & raffle at the centre following the run. Anybody with sponsor cards are asked to bring them to the Centre on the day.
16/04/2016
CVCMC members are invited to take part in a run in aid of Temple street Children's Hospital on Sunday 17th April at 2pm. Starting point is from Palatine GAA Club. There will be refreshments & raffle afterwards.
08/04/201
C.V.&C.M.C members are invited to attend a trip to Kilbroney Vintage Show on June 18th. The club is organising a bus to travel to the show so any member interested in going will need to contact P.J.Lawlor @ 0876722972 or Marie @ 0877619492. Please note that there is a limited amount of spaces so those wishing to attend must make contact before Thursday the 14 April. Thanks.
04/04/2016
An representative from AXA insurance will be attending our monthly meeting on Tuesday the 31st of May.
This is an opportunity for you to ask your questions to an an industry member and obtain a decent deal on your vehicle insurance.
Due to the popularity of this issue, please note that this is strictly a members only event. For those non members who wish to attend, you need to contact our club treasurer, Marire Cosgrove at 0877619492 in order to obtain membership for the club prior to attending
We look forward to a full house.
30/03/2016
CVCMC is organising a trip to Kilbroney Vintage show on June 18th. The club is organising a bus and members who wish to go can contact PJ Lawlor @ 0876722972. Please note that spaces are limited so get in touch early.
For more information on the event, click on the link below.
http://www.kilbroneyvintageshow.com/
22/03/2016
Our club will take part in the Easter Parade in Hackestown on Easter Sunday the 27th March.The parade is scheduled to start at 3pm.Could all members wishing to attend, please meet in Hackestown at 2pm .You will be directed to the meeting place by the organisers of the parade. CVCMC would also like to wish all our members and fellow enthusiasts, a happy Easter.
15/03/2016
CVCMC Members, we have a busy schedule as usual for St. Patricks Day.
We will be meeting at McGrath Hall, Bagnelstown at 1pm sharp. Next up is Tullow at Fair Green, 2pm sharp followed by a 3.45pm meeting at the Land League Gates, Ballon. All members are welcome to attend any of the scheduled meetings. There is no obligation to attend all of course. Happy St. Patricks Day to all.
28/02/2016
Our next run in this already busy season is to Johnny Fox's Bar and Restaurant high above the Dublin mountains on March the 13th. We'll be leaving from the Lord Bagnal in Leighlinbridge around 10.30. More details to follow.
24/02/2016
Dylans Monster Road Run Charity Drive
CVCMC members are invited to come along on the 27th February, to Toughers Bar & Restaurant in Carlow to take part in a Monster Road Run Charity Drive for a brave young man.
This fundraising event is being held especially for Dylan who has a rare life-threatening muscle wasting disease for which there is no cure. Please come along to support him on this day as he turns 11 years old!
There will be Surprises on the Day and trade stands are welcome: €20 per vehicle.
Registration is at 10am. The road run starts at 12 noon.
Live Music with Trad Band/DJ and Raffle. A great day and night are guaranteed.
For more info contact Paula Burke Steele @ 085 8153442 or 059 8650442, or find us on Facebook to get all the latest news and updates on the event: Dylan's Monster Road Run Charity Drive.
19/02/2016
Members run to Jim Boland's Musuem, Naas, Kildare 28th February 2016
CVCMC members are invited to take part in a run to the amazing Jim Boland's musuem just outside Naas town.
Departure is from the Lord Bagnal ,in Leighlinbridge, at 11am.
We'll be stopping for food in Shakelton's Crookstown Inn at approximately 3pm.
For more details contact PJ Lawlor at 0876722972.
07/02/2016
Members run to Wallace's Musuem, Crettyard, Carlow 14th February 2016
CVCMC members are invited to take part in a run to Wallace's Museum Crettyard, Carlow on Sunday the 14th February.
Departure from the Lord Bagnal in Leighlinbridge is at 11am. The second meeting point is at Newtown Cross at 11.30am.
We will also be visiting a nearby agricultural museum on the day. Food will be available in a local restaurant with a smashing price of €10 Euro for three course meal. For more details contact PJ Mulhall at 0879736605.
02/02/2016
Trip to the Arran Islands 13th May 2016
Brendan Gaynor from the Cill Dara classic car club is organising a run out to Inis Mor, Aran islands, staying in Aran Island hotel and would like to extend an invite to CVCMC members.
Plans for this years run to Aran Islands are to head out on Friday, 13th may, returning Sunday, 15th May
€400 for car and 2 passengers for 2 night B&B plus dinner both nights and lunch (soup & sandwiches). Price included return ferry transfer and €50 towards local RNLI lifeboat. If one has to travel as foot passenger on other ferry it's extra.
A €50 non refundable deposit by 10th Feb is payable to hotel. Balance payable by end of April.
For more details contact Brendan at 0872650400.