This members car is Tim Madden's 1968 Morris Mini.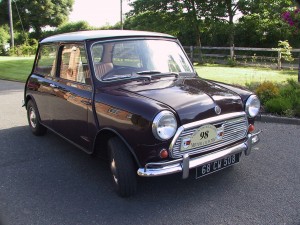 Recently availing of a big overhaul and restoration, Tim's Mini looks spectacular in it's rich colour. It's a 1968 Morris Mini. Originally, an Irish car, it's gone through a few owners before ending up in the hands of Tim, who is an avid collector.It's a Mark II Mini, of which 429,000 were produced, which is distinctive by its redesigned grille. The mark II had a variety of versions with production facilites as far off as Spain.
Tim has plans to enjoy the car this summer and then see how it goes. He currently is working on new project which is top secret but I am allowed to say it's French, rare and very stylish so we all can't wait for that.